Driven by Discovery
Whether decoding the mysteries of the extracellular matrix or reviewing data for journals, Liliana Schaefer, MD, draws inspiration from the unknown.
By Renee Brincks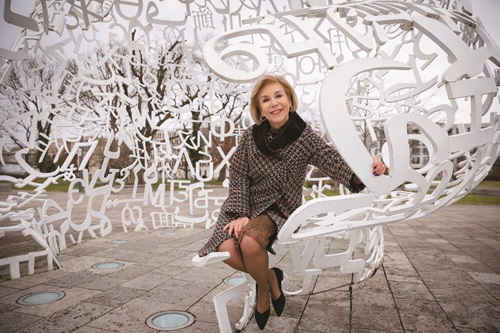 In July 2021, Liliana Schaefer, MD, started her work as editor-in-chief of the American Journal of Physiology-Cell Physiology (AJP-Cell). She included in her welcome letter to journal readers a favorite quote from pioneering scientist Marie Curie.
"I am among those who think that science has great beauty," says the passage from Curie, who won 1903 and 1911 Nobel Prizes for her work in physics and chemistry. "A scientist in his laboratory is not only a technician: He is also a child placed before natural phenomena which impress him like a fairy tale."
Schaefer is a pharmacology professor at the Institute of Pharmacology and Toxicology at Goethe University in Frankfurt/Main, Germany, and an adjunct research professor of pathology, anatomy and cell biology at Thomas Jefferson University in Philadelphia. Her own fascination with scientific discovery—"the beauty of the unexpected," as she describes it—fuels her research interests in renal and lung inflammation, fibrosis and innate immunity.
Schaefer shaped the field of matrix biology when she determined that decorin and biglycan, two small leucine-rich proteoglycans, act as endogenous danger signals when soluble in the blood or released from the extracellular matrix by proteolytic enzymes. The two molecules can trigger inflammatory response reactions when recognized by innate immunity receptors.
With this knowledge, Schaefer and other researchers are working to clarify the mechanisms of inflammation and autophagy triggered by the extracellular matrix. Over time, these discoveries could inform how medical teams treat conditions that affect the heart, kidneys, liver, lungs and other organs.
From Patient Care to Proteoglycans
Schaefer grew up in western Poland, where her parents were professors at the University of Poznan. As a student, she excelled at math and science and decided to pursue a medical career that combined those interests while also connecting her with people. Schaefer was studying medicine at the University of Poznan when a professor recognized her aptitude and encouraged her to apply for a scholarship that took her to Germany. She completed her medical degree at the University of Wuerzburg and later participated in postdoctoral research at the University of Wuerzburg and University of Muenster.
Though trading patient care for lab research required a shift in focus, Schaefer enjoyed the challenge. "It was a pretty difficult time, when I first went to the laboratory, but what is difficult also makes you strong. I quickly learned the techniques and I liked the work," she says.
While in Muenster, Schaefer met some matrix researchers focused on proteoglycans. The glycanated proteins are found in the extracellular matrix of the body's connective tissue. "This became my passion," Schaefer says. "The extracellular matrix was always considered as the static scaffold necessary for structuring and maintaining cells. We were the first lab to show that some components of the extracellular matrix, when released from the matrix because of stress or injury, bind to the toll-like receptors like pathogens and trigger sterile inflammation."
Schaefer's discovery took the research community by surprise, but as contemporaries reviewed and embraced her data, the findings significantly changed the general understanding of matrix biology.
"I tell students and scientists to always think big. If you look only at dogma, you will never find anything new. And, if you have strong data, believe in it. Don't be afraid to continue the research. This is how you make new discoveries."
"At one time, we didn't understand how you could have no bacteria and no pathogens but still have inflammation. Now, we are better able to imagine this. With this understanding, we can also intervene in the signaling process and create new therapies," Schaefer says. "Before, we only treated these inflammatory diseases with steroids. That might not always be the best way. With this specific targeting of proteoglycan binding co-receptors for toll-like receptors, we're trying to not switch off the innate immunity but to block matrix-signaling selectively. Blocking innate immunity receptors means we can't always be protected from pathogens. Instead, we're working to block the binding side of proteoglycans to co-receptors of toll-like receptors."
Today, in her Frankfurt lab, Schaefer and a team of six colleagues continue to study proteoglycans and the mechanics of inflammation. Outside the lab, she has forged a path in publishing. Schaefer wants to advance scientific knowledge while also expanding opportunities to a wider research community.
"I realize as an author that it is very important to get a professional review of your paper from knowledgeable colleagues. In my first paper about the danger signals in cells, the review process brought new ideas to my research," she says. "I decided that if people have helped me, I also want to help younger colleagues and other researchers."
Encouraging Diversity in Research and Publishing
For her first foray into editorial work, Schaefer reviewed extracellular matrix submissions for the Journal of Biological Chemistry. From there, she became deputy editor of Matrix Biology and Matrix Biology Plus and deputy editor of Cellular Signalling. Over the past 15 years, she has also done editorial work for the Journal of Histochemistry & Cytochemistry, FASEB BioAdvances and other peer-reviewed titles.
In her new role with AJP-Cell, she's tapping into a network built while serving as the president of the Histochemical Society, chair of the 2022 Gordon Research Conference on Proteoglycans, past president of the International Society for Matrix Biology and an active member of several other professional associations. Since heading up AJP-Cell, she has welcomed an associate editor from Peking University in Beijing. She is also seeking manuscript submissions and editorial board participation from professionals in Asia, Europe, South America and beyond.
"We have wonderful scientists in China, in Japan, in Australia, in New Zealand, but those scientists are not represented in as many journals. We don't always understand their grant opportunities and their university situations, and I'm working to change that. Their research is important, and people are happy to be involved," she says.
In addition to introducing greater geographic diversity to the journal, Schaefer is inviting early-stage researchers to engage in AJP-Cell opportunities. This is an extension of her teaching work. After presenting guest lectures, she often hears from students who want to discuss their data or apply to work in her lab. She appreciates their ideas and enthusiasm and encourages them to approach their work with confidence.
"I tell students and scientists to always think big. If you look only at dogma, you will never find anything new. And, if you have strong data, believe in it. Don't be afraid to continue the research. This is how you make new discoveries," she says. "Frequently, students in my lab send me their data for review. They sometimes say, 'Look at this. I'm sure there is no mistake, but these results just can't be.' I tell them that their findings always have a reason. The challenge is to uncover that reason."
While her own research findings have made a lasting impact in the field of cellular physiology, Schaefer considers her efforts to promote and boost the field to be as meaningful.
"In terms of my biggest impact, you could think about single findings, but I don't think they are the most important," she says. "Over many years, I have been a strong ambassador to other scientists, authors and young people coming into the field. It's important to be known for your enthusiasm and dedication and to be known as a person who does many things in parallel. By focusing those various efforts in one direction, you help to move research forward."
This article was originally published in the March 2022 issue of The Physiologist Magazine.
"At one time, we didn't understand how you could have no bacteria and no pathogens but still have inflammation. Now, we are better able to imagine this. With this understanding, we can also intervene in the signaling process and create new therapies."