Smart, complex, interesting, talented and so much more…APS members are fascinating, and not just because of the work they do. Our new magazine shines the spotlight on you.
In This Issue
The Physiology of a Pandemic
The Physiology of COVID-19
Targeting Coronavirus
In This Issue
Race Against Extinction
Inside Grant Funding
Cravings, Control and Consequences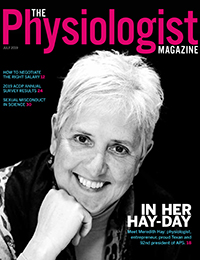 In This Issue
Meet APS President Meredith Hay
2019 ACDP/AAMC Surveys
Sexual Misconduct in Physiology
Looking for archived The Physiologist newsletters?
Search Archives