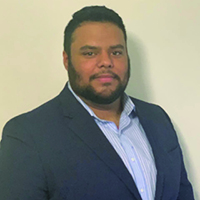 APS Porter Physiology Development Fellowship is one of the Society's flagship award programs, highlighting scientific excellence in researchers from underrepresented backgrounds. We asked our Porter Fellows to tell us about their research, the impact of the Fellowship and their advice to other underrepresented scientists. Here, Cesar Barrabi, one of our esteemed Porter Fellows, shares more about his background and words of wisdom.
What's your background? Are others in your family involved in science and medicine or are you a trailblazer in STEM?
My mother was born in Cuba and my father was born in Kansas City. My father's father was born in Cuba, and his mother was born in Mexico. I was born in the U.S. and learned as much as I could about my Cuban and Mexican roots from my grandparents. My mother and I are the only people in our family to go to graduate school, however, I am the first to pursue a PhD. I have several cousins in STEM-related fields, but no one in my family aside from me are involved in science and medicine.
Tell us about your research. What are current projects are you working on?
I am working on two projects related to type 2 diabetes. My first project was a systematic study looking at how chronic elevated glucose alters the beta cell proteome. I learned how to use bioinformatics tools to dissect the hidden biological findings in my dataset to further understand how glucose causes beta cell dysfunction leading to type 2 diabetes. My second project is using CRISPR-Cas9 to study a protein required for proinsulin folding.
What is the biggest challenge facing researchers of color?
I believe the two biggest challenges are lack of representation in leadership roles and explaining what I do to my parents. Not the science aspect, but the fact that I am a student that is financially supported to do research. For the first few years of my program, my parents would ask when I was going to get a job. Looking back at their comments are funny now, but in the moment, it was very frustrating. Hispanic families, like many other families, are very close, so they love and support me no matter what I am doing. However, my parents started their careers at a young age so it's difficult for them to see me in my late twenties as a student.
Cesar Barabi is a fifth year PhD candidate in the department of Physiology at Wayne State University in Detroit. His research interests are understanding how chronically elevated glucose affects pancreatic beta cells and how endoplasmic reticulum resident proteins handle and fold proinsulin.