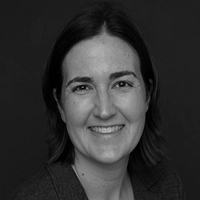 APS members are doing amazing things. We asked Katie Johnson, PhD—one of our esteemed member-researchers—to tell us about her work and its implications on our understanding of life and health. She also describes how her passion for having new experiences and learning new things informs the work she does as an education consultant.
What do you do? Describe your work for a lay audience.
KJ: I am an entrepreneur and founder of Trail Build, LLC, a consulting company engaged by academic institutions and professional societies to improve science teaching in higher education. A portion of my work is evaluating how, where, and if science teaching and learning is effective and equitable. Most of my effort is focused on developing opportunities for science educators to reshape and improve their teaching in a way that works for their classroom.
Give it context. If all goes well, how will your work benefit humanity or our understanding of life?
KJ: My work provides educators with strategies to become better teachers and reshapes institutions to be more equitable spaces for education. I help organizations and educators build a path to realize their aspirations, which is what inspired the name of my company—Trail Build. Education researchers are conducting amazing work to expand what we know about teaching and learning, but this evidence does not always inform teaching practices. I facilitate the transition of information from teaching research into the classroom.
If you could do anything else… What outside of science inspires you? What would you be doing if not science? Describe your passion.
KJ: I enjoy the rush of experiencing new opportunities and learning new things, and I love providing an opportunity for others to experience that same excitement. It is amazing and interesting to watch someone learn, whether it is my 5-year-old daughter, a physiology student, or an educator. As a full-time consultant, I am constantly learning and gaining a broad and systematic view of science education and learning. My training as a physiologist absolutely inspires my current work because I thrive on understanding how systems function and interact, and that parallels my work in higher education.
Katie Johnson, PhD, is an entrepreneur and founder of TrailBuild, LLC. She also serves as an educational consultant for the new APS Center for Physiology Education.