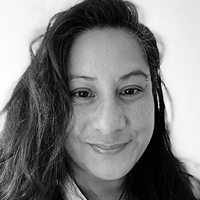 A career in physiology may take many shapes and happen in many professional settings, including within industry, academia, government and nonprofit sectors. We asked our esteemed APS member-researchers to share what they do, where they do it, and how their work is expanding our understanding of life and health. Here, APS member Lisa Ganser, PhD, discusses her work supporting government public health and education outreach and how she found her way to this role.
What do you do?
I provide academic laboratory expertise to our government clients who are educating the community on public health. My audiences are diverse, ranging from people in our local communities to medical professionals and researchers, who play major roles in contributing to improving global health. When our clients need help to create courses or educational materials for their specific audiences, my background in physiology and experience in academia offer perspectives in research, teaching and DEIA (diversity, equity, inclusion, and accessibility principles) to reach as many people as we can with our messages.
Give it context. Why is your work important? How does it contribute to other efforts?
Public health messages aren't one size fits all. When the message is something as important as vaccination or finding safe resources after a devastating hurricane, it's vital that our messages reach everyone. The pandemic introduced so many new lessons for health communications, not only for making our messages, but in delivering them. Knowing that our audiences have varying levels of trust, experience, support and motivation, we need to proceed with great specificity and work within and among communities led by trusted community members, elders and community health professionals.
Likewise, training surge staff—who may have university-level laboratory training, but not clinical experience—presented unique challenges for hiring, training and biosafety in this new workplace. We had to craft new job aids to help explain test results (specificity vs. sensitivity) to technicians or healthcare providers, so they could communicate these results accurately and effectively to their patients. Because my audiences differ so greatly, my communications need to be well-researched and include the input of many partners.
How did you find your way to your current role?
I was really frustrated with my academic job, even after earning tenure. There were very few full-time tenure track faculty of color in a big department that educated a huge number of students from historically marginalized backgrounds. Being models for these pre-professionals was daunting without support from within.
I loved every aspect of educating students, and selfishly, I think I got back more than I could ever give. They still write to me and text me years later. I knew that it was time to leave academia when I couldn't be fully available to my students and I had nothing else to give. Happily, I was able to find an initial job with Alaka'ina as a health communicator. Last October, I transitioned to my role as a subject matter expert (SME) II with a fantastic team of creative people and other scientists. Working with Alaka'ina allows me to contribute to educational outreach programs with Indigenous children who will be leaders in science and global health.
What outside of your job or science inspires you? What would you be doing if not science?
I love it outside! I love exploring, and I'm one of those annoying people on hikes who has to look at everything under a log or flip every cover board to see the snakes, salamanders...whatever. If you want to get to a destination on a hike, please don't take me, we won't make it past the pond.
I also love art, and my new career allowed me some time to take classes!! I took pottery and loved it. I am really bad at throwing clay, centering it on a wheel, and building vessels that don't crumble, but the process took so much energy and concentration, that I couldn't help but enjoy and invest myself in every minute.
The last thing I enjoy is learning from both of my daughters. Both are grown and have become activists who are part of the revival of their Indigenous culture. They are learning Hawaiian and CHamoru language and taking active roles in resource conservation in the islands. Getting to know their roots is helping to make them the strong, independent women who teach me so much every day.
Lisa Ganser, PhD, is a Subject Matter Expert II at the Alaka'ina Foundation Family of Companies. She's been an APS member since 2018.